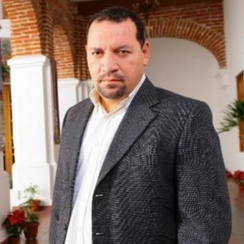 Originally from La Paz, Baja California Sur, Mexico. Visual artist with more than 50 exhibitions in his career, he has received accommodation for his work in collective exhibitions such as the Salón de la Plástica Sudcaliforniana, in the Museum of Art of Baja California Sur and individually at the Carlos Art Gallery Olachea Boucsieguez, Center for Arts, Traditions and Cultures Popular being these the most important venues in their native state.
In his career as a museographer, he has had the opportunity to participate in the assembly of international-class exhibitions such as Pharaoh, the Cult of the Sun in Ancient Egypt, the collection of the Egyptian Museum in Berlin, Germany, presented in the National Museum of Anthropology in the Federal District in Mexico, in 2005. In 2012 he was in charge of the design, production, elaboration and realization of the Remodeling of the Natural History Room of the Regional Museum of Anthropology and History of Baja California Sur.
In his work within graphic design and illustration we can highlight the authorship of the materials The Missions Route, Our Cultural Wealth, Children's Tourist Card, Lottery Sudcalifornia and the Codex Peninsula of the La Paz Cultural Center.
He has participated in the Salon du Dessin et Peinture L ́Eau at the Art Capital that is based on theGrand Palais des Beaux-Arts in the city of Paris, France, in its 2019 and 2020 edition, has also exhibited his work at the Château d'Ancy le Franc in French Burgundy, at the Château Museum de Bussy-Rabutin and in the gallery of the Mexican Consulate in Dijon, France, likewise his work Arrieros was part of the inaugural exhibition of the Museum of Art of Baja California Sur.
In 2021 he is selected by the International Watercolor Society Russia in the First International IWS Russia 2021 Festival "Watercolor with Love" to exhibit in three venues, Saint Petersburg, Novosibirsk and Moscow, Russia, he has also exhibited in Rome and Sicily, Italy, New York, USA. Porto, Portugal and Madrid, Spain.